"caviar gems is a wonderfully unique product that showcases premium caviar in a new way, allowing chefs and mixologists alike to reimagine the presentations of their masterpieces," says Brian Van Flandern, holder of three Michelin stars and "America's Top Mixologist."
"I earned my reputation as a detail-oriented perfectionist who refuses to compromise when it comes to quality ingredients. caviar gems is a luxury product with phenomenal cocktail applications. It is quickly becoming a staple ingredient in the finest kitchens and bars everywhere."
World renowned mixologist Brian Van Flandern has earned a reputation for his innovative cocktail recipes utilizing fresh exotic ingredients. A former Michelin three-star bartender at chef Thomas Keller's restaurant 'PER SE' in NYC, Brian is now a global beverage consultant and industry influencer for some of the most famous chefs, affluent celebrities, prestigious hotels, posh restaurants, and iconic resorts in over 50 countries world-wide. Formerly ranked the number two mixologist in the world, The Food Network calls Brian "America's Top Mixologist".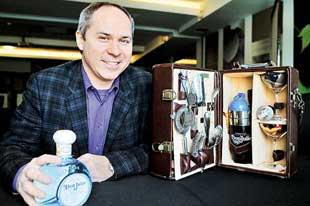 "caviar gems: Pure pleasure from the elegant packaging to when you break the seal, scent of nuttiness and the sea, to the crunch and brilliant taste."

"I enjoy the way caviar gems open up when lightly crushed in mortar and pestle, similar to how wine opens up when swirled in a glass."
"Elevate any dish with a spread of caviar gems Aioli. This dehydrated caviar is excellent with dairy, cheese, and cream for contrast and flavor"
"Warm Chocolate Cake with caviar gems Crème Anglaise would be brilliant "
Chef Grant MacPherson's career has spanned 35 years and five continents, cooking for a multitude of A-list celebrities in the world of business, entertainment and politics; including U.S. presidents, British prime ministers and rock royalty. Chef Grant has opened restaurants all over the world. He's worked in many prestigious hotels such as The Four Seasons, Regent Hotels,The Ritz-Carlton, Malaysia's Datai Hotel and the Raffles Hotel Singapore. In 1998 he was recruited by Las Vegas casino visionary, Steve Wynn, to head the culinary operations at the new 3,000- room Bellagio Resort & Casino and in 2003 was appointed Corporate Chef to design kitchens for Wynn Macau, Wynn Las Vegas, and Wynn Encore. MacPherson played a major role in transforming the dining scene in his adopted hometown of Las Vegas. Internationally he also opened restaurants in Wynn Palace on the Cotia Strip in China and Ned Hotel in London.
Chef Grant has cooked at the James Beard House, food and wine festivals around the Globe and has won numerous awards worldwide including a gold medal in the 1992 Culinary Olympics. Chef Grant collaborated with Apple to work on Steve Job's vision and design of Apple's dining facility in Cupertino.
Most recently Chef Grant joined a very exciting large project in New York to work on culinary operations.